Andoras Ltd is delighted to be named as 'Inishowen Business of the Year' at the recent Buncrana Chamber of Commerce Business Awards 2017.
Some 60 nominees, shortlisted from hundreds of entrants, attended the black-tie gala ball at the Inishowen Gateway Hotel on Saturday 25th November.
Commenting on their win, Andoras General Manager, Les Eakin says, 'We're very proud to be named as Inishowen Business of the Year for 2017. This accolade is testament to the strength of our consumer brand Aisling which was developed to supply kitchen retailers in the UK & Ireland with bespoke artisan furniture, aimed at the premium end of the market. The cornerstone of the Aisling brand is attention to detail and we achieve this through a talented and skilfull team of designers and craftsmen. Our workforce has almost doubled since 2014, drawn primarily from the local labour market, so this in itself is fantastic as we're able to bring much needed long term employment to the local area in Donegal'.
Sixteen individual categories were announced on the night in front of a strong crowd of over 300 individuals, all from various sectors of local business.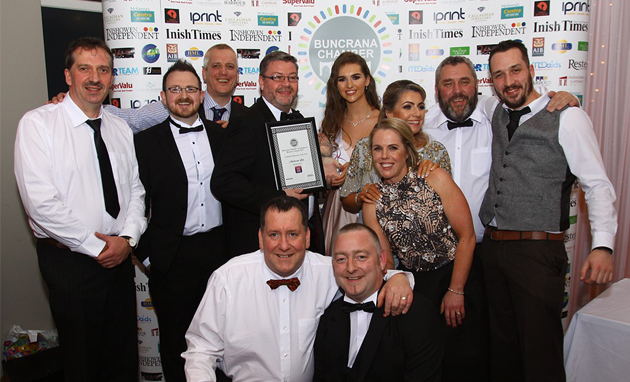 The Andoras team pictured with their award for 'Inishowen Business of the Year' at the
Buncrana Chamber of Commerce Business Awards 2017